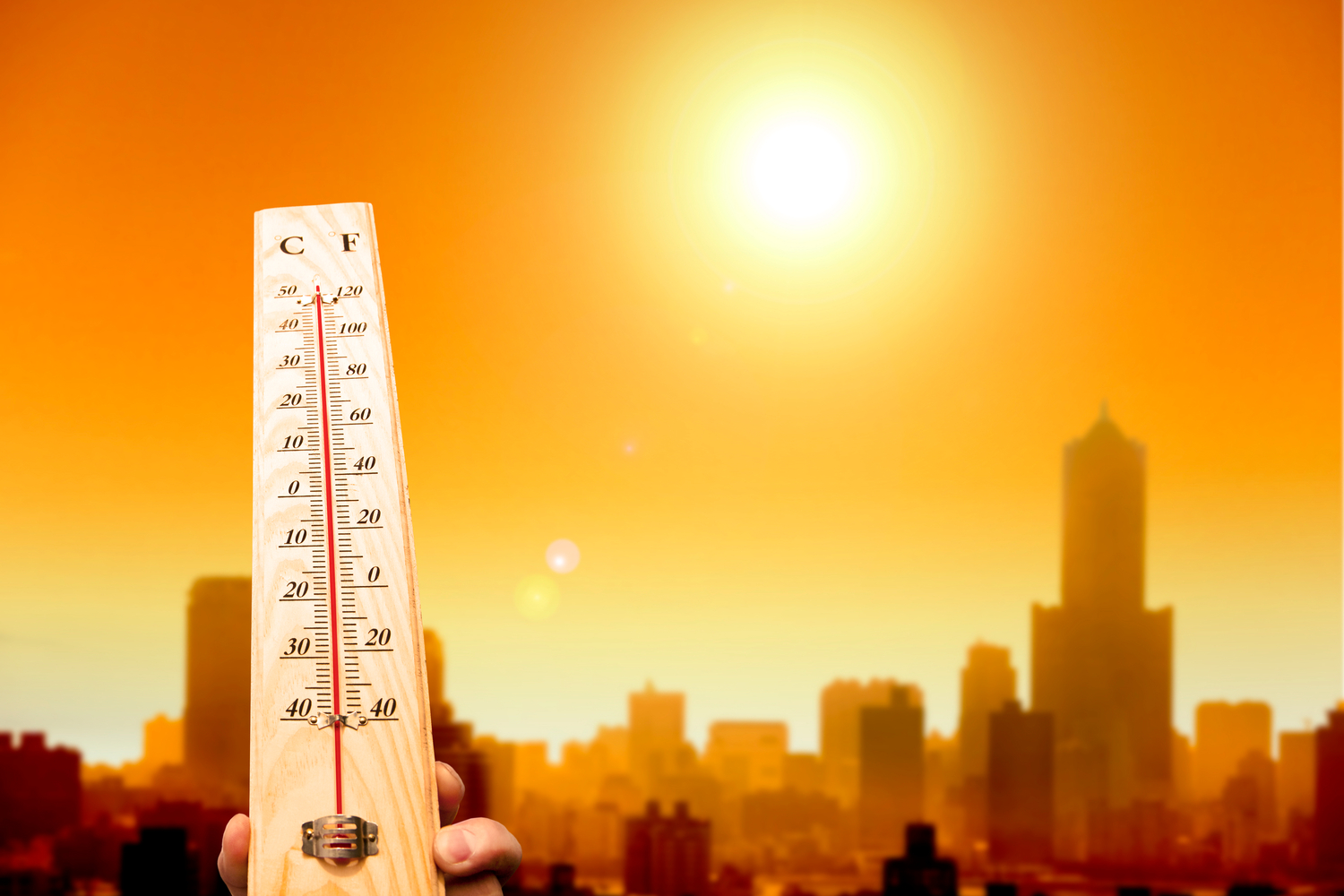 Preparing for Climate Change
By the end of the century, we could experience between 50 and 100 days of extreme heat per year. How will that affect you?
Adapting to Climate Change
Changing Climate Conditions
Our climate is changing and impacting residents and businesses in Milpitas. We are already seeing how volatile the climate has been in the past years, and the next few decades are projected to bring more change. We will see conditions and impacts like:
Rising annual temperatures and an increasing number of extreme heat days and heat waves

Changes to precipitation patterns, including both more frequent and drier droughts and more frequent floods

Increased wildfire and grassland fire risk
If we don't work together to curb our emissions the City's maximum annual average temperature could jump from 68.3°F to 77.1°F by the end of the century. In the same high-emissions scenario, we could also see 4 more inches of rain a year and at the same time, more than 38 days of extreme heat (temperatures over 91.6°F). These conditions will create challenging and unsafe environments for both human and natural systems, and threaten the stability of our physical assets, infrastructure and local economy.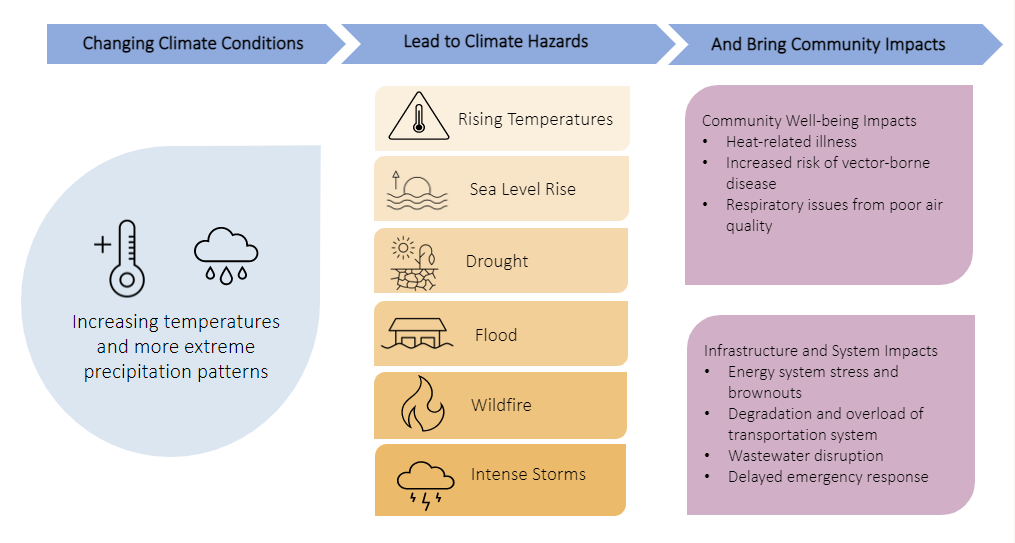 Adapting to Climate Change
Climate Hazards and Community Well-being
These changing climate patterns, where harsh weather gets more frequent and extreme over time, will create hazards and unsafe exposures for our community and natural environment, impacts on our community health include an increase in vector-borne infectious disease, respiratory issues due to worsening air quality from wildfire smoke, heat-related illness and injury from wildfires and flood events.
These hazards will impact all of us but will affect the vulnerable residents of our community more than average, and increase disparities in health, safety, and resilience after emergencies.
Adapting to Climate Change
Climate Hazards and Infrastructure Impacts
The climate hazards posed by the changing climate conditions will also have consequences for our property, energy systems, water and transportation infrastructure, and our emergency services. The extreme heat and regional wildfires will lead to more brownouts, damage to electricity transmission systems, and Planned Safety Power Shutoff (PSPS) events. Floods, large storms, and extreme heat can lead to degradation and stress on our transportation and stormwater systems, and wastewater overflow and disruption. These climate conditions will also impact our emergency services with increased demand and could lead to delayed response time.
Silicon Valley 2.0 supports the entire Santa Clara County with climate risk assessment and adaptation and resilience planning. Developed by the County of Santa Clara Office of Sustainability, in collaboration with many partners, the project produced:
Silicon Valley 2.0 created a great tool for infrastructure planning in our region. Addressing climate vulnerability comprehensively means addressing social and economic aspects of climate risk, which we're undertaking as part of this CAP Update.
Milpitas Vulnerability Assessment
Explore our Vulnerability Assessment which overviews what climate change threats will affect Milpitas. The results of the Vulnerability Assessment will inform this critical aspect of our CAP Update.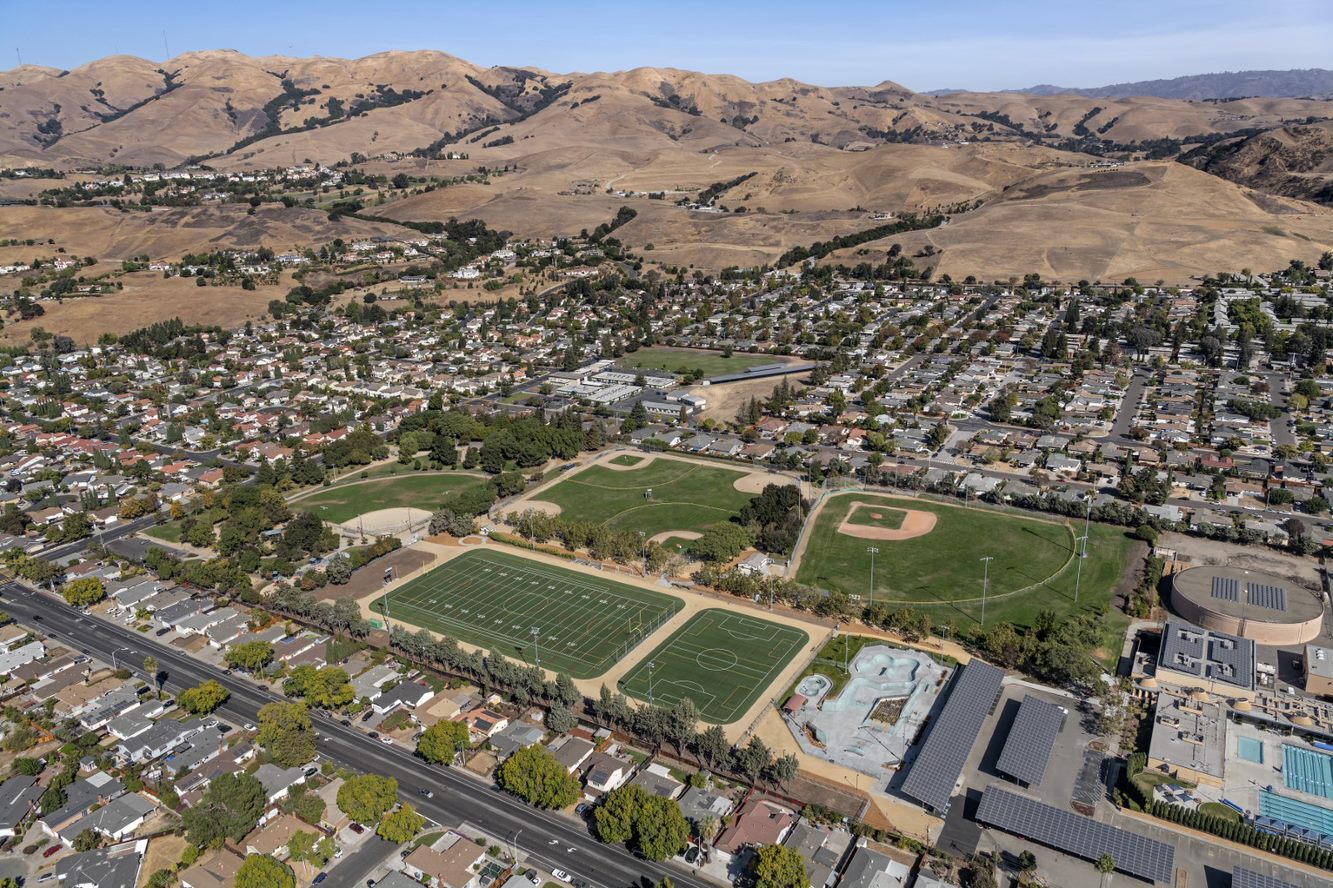 Resources for Preparedness
Sudden weather events can strike quickly! Be sure that you and your family are prepared to take action.
---